Torres de Aloha - Apartment - 1021
English
View On Airbnb - Relaxed Holidays, all year round
Bookings through AirBnB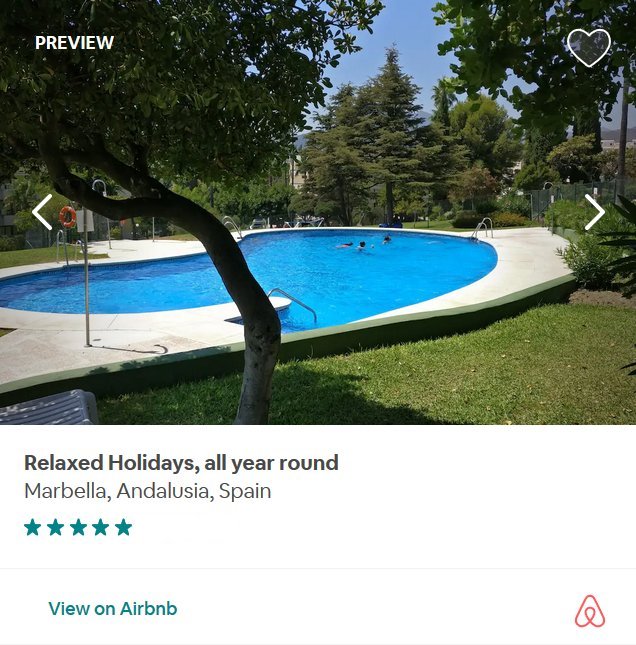 We also have a very popular Studio in Torres de Aloha and it might just be the right size for you -  the Studio - Aloha.
Around Las Torres de Aloha
Have a look what is there and why Torres de Aloha is a great choice - here.
Longer-term?
Contact us for longer-term rates from September through to May/June  .....
Relaxed Holidays, all year round ...
... in green, quiet park with restaurants, bars & shops in easy walking distance, a 100m. Puerto Banus & beaches are just a mile away, open all year round.
The apartment sleeps 4 plus baby with a separate bedroom & a comfortable, double sofa bed in the living room. The compact kitchen has all you need for a full meal including a dishwasher, but the restaurants are closer. The balcony overlooks the expansive park & is great for breakfast, lunch, dinner, tea time & G-Ts in-between.
The space
This apartment is solely for your holiday enjoyment, fully licensed and well maintained by Vivi and Christian. We speak English, Spanish and German.
The apartment is on the 4th floor of the 2 high buildings (12 floors) in this tranquil, open park setting, in total there are only 4 buildings on the site. No one will overlook your relaxed meal on the balcony with a friendly wave from "across the next block over there".
It will be hard if not impossible to find such a generous and well connected location in the area.
The apartment's main aspect is South-South-West facing. With this orientation, the sheltered balcony and the grand pine tree vis-a-vis this apartment does not overheat in summer and the air conditioning can be well limited to a minimum. It is high enough for great views, but not too high to be exposed to the costal elements, especially the sun and wind. The balcony is usable during the entire year. In winter your will have sun all day round on this side of the building and the sunset to the West. The still hot mid-day sun will be shielded by the grand pine tree.
The bedroom is facing North-East with a view across to typical Southern trees and on to the landmark mountain of La Concha a little further in the distance. If you want and leave the roller blind open, the morning sun will start you into the day.
The bathroom has a spacious shower, is well proportioned and includes the washing machine. The internet is on fibre optics, the TV runs of the local cable including international channels (En, De, Fr, etc). It's a smart TV, just no build in Netflix for some reason, just use a smart link from your phone or tablet or bring your streaming dongle.
The reception of Las Torres de Aloha is open weekdays from 09.00 to 17.00.
The swimming pool is partially visible from the apartment, but far enough away so you wont get disturbed by the pool activities. It is separatly fenced and can only be accessed with a key. It has moderate use and you will always find a space and the sun bathing area around is spacious as well.
The complex is well looked after by gardeners and the care taker on a daily basis all year round.
In the summer months the park and pool are additionally looked after by the "Monitors", who, at certain times, are also observing the pool.
As a fully registered holiday apartment all local regulations are complied with and this includes the mandatory registration of all guest. We use the Check-in Scan app to make things quick and easy for you. You need to present a valid ID card or passport on arrival. You do not need to fill in forms on paper, just scan and sign on the app. Any questions, let us know.
How to use it ....
.... the apartment is all yours, no private personal things are there. You have access to the parking on the ground to load and unload at all times and if a space is available to park, but there is plenty of car parking around.
Should your group arrive with more than one car, please leave only one inside the gated area and the other outside.
The apartment is completely independent. We live in Marbella and are always happy to help, just call or send a message.
There are books, CDs, tapes and games in the apartment and we would like to ask you to leave them there, please do not exchange them. There are plenty of book exchanges around and also in the reception you will find a good selection to swap.
To keep the entire place relaxing there are the usual rules of no towels over the balustrade and no visible cloth drying on the balcony.
The rules include quiet times into the morning, over lunch - the famous siesta - and at night, there are plenty of places around for parties, just not here.
Around the area
Bakery, coffee shops, shops, pharmacy, 24-7 supermarket and Mercadona are within about 2 to 300 metres.
There is a bike renting shop including e-bikes - you should book them in advance - just let us know.
There are a wide range of bars, restaurants and coffee shops around from the local place for coffee, lunch and dinner to the well-priced pizza and drinks to the international cuisine, still affordable depending on taste and expectations; including some good curries for a true Brit and those who know what it is all about. And there is some night-life with a disco and lounge, though you wouldn't know it from your apartment, not a sound.
There is a taxi rank just outside the main entrance near the reception (Avenida del Prado) and there is a  bus stop. The mile trip into Puerto Banus is not too far on foot - the beach, the sea and plenty of shops, shopping centres, bars, restaurants and night-life. There is a nice little short cut through the leafy streets of the quiet residential area of Atalaya de Rio Verde. And it's just a short taxi ride to get back safely at any time.
Marbella is not far either but you may want to take the car, bus or taxi; or walk 15 minutes down to the beach and then follow the walk across the sea front towards Marbella. Should you develop an appetite too quickly, you will find lots of restaurants on the beach, Chiringuitos (huts or sheds) as they are called, sure, a few less are open in winter, but you will hardly notice it and still get well looked after.
This is also a recommended route to prepare your next marathon or to ride a bike for miles. You will find more information elsewhere - always good to look for "relaxed holidays, all year round".
On the subject - sport, "deportes" - big thing in the area. Golf courses are all around and in easy reach. Beware of the speeding golf carts on some roads in the area.
There are two tennis clubs just there and lots more around. Fitness and all sorts of healthy training courses are in easy reach. Water sports are there between Marbella and Puerto Banus and beyond. Climbing, kite flying, horseback riding and more, F1-style racing near Ronda or relaxed sailing down the coast ..... and lots more, hard to list them all.
Getting around
Taxi stand and bus stop are on Avenida del Prado, directly in front of the lower main entrance to the park near the reception, on the road with the bars, restaurants and shops, etc.
The Airport Bus from Malaga arrives at the Coach Station in Marbella, Estación de Autobuses. From there you can catch public transport busses or take a taxi for a short ride to Torres de Aloha. Any questions? ask us.