Local Foods - what to eat & drink

Food is so important in our daily life and during your holidays you have time to enjoy it even more and get some new impressions, gazpacho
Gazpacho
for example. What better place to come to to enjoy the Mediterranean diet of taste and for a healthy life than the Costa del Sol and Marbella??? Don't be fooled, though, there is plenty of food around that is just the opposite - like churros and others fried in touch much oil, with too much sugar and so on. You have to try churros once in a while, moderation nd balance are the key.
Tapas
We will not dive deeply into writing about food. The internet is full of that. We will just add a few hints & you can take it from there. One of the great things are tapas, small portions of all things available to go with your (alcoholic) drink. You could call it sofisticated peanuts and olives. Most of these dishes you can order in larger portions (raciones) as well. Depending on where you are in Andalucia the idea of tapas my differ quite a bit around Spain and the World. The best place for tapas are Almeria, Granada & Jean. Lots of places there will give you the tapa with your cerveza or vino (glass of beer or wine) at no charge extra. Around Marbella the tapa is an optional extra. What is what .....
Paella simmering
Plato (a plate - with food)
Racion (a portion) or Media Racion (half a portion)
Tapa (a snack of all things on the counter & more)
Pintxo (something grilled on a skewer)
Montadito (food on bread - often a small roll)
The "must-trys" are gazpacho and fish, fried & grilled, look out for fish on skewers being grilled next to fires, upright standing in the sand. there is so much that we just have to say: "Go and try it all." Go to the little local bars off the beaten track and try things with a tapa or two, see if you like the food and the ambience and if not move on. The foods to try include (thanks to Wikipedia - links are included below):
Further reading and a good overview is here - http://www.andalucia.com/gastronomy/home.htm Drinks - the usuals and a few more - but remember don't drink and drive - heavy fines and lots of checks, even on the back routes.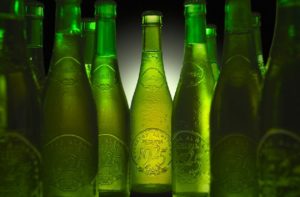 water / agua - best fresh from the many springs
beer /cerveza

Taifa Toast (Sevilla)
Son (Cordoba)
Alhambra (Granada)
Far West (Almeria)
Cruzcampo (Sevilla)
Victoria (Malaga)
Tierra de Frontera (Jaen)
Maier (Cadiz)
Mammooth (Granada)
Rebeldía Beer (Malaga)
Destraperlo (Cadiz)
Desiderata (Sevilla)
La Axarca (Málaga)
Savis (Málaga)
Folks Bier (Huelva) - sounds too German

clara con limon / beer with limonade - the request "con limon" gets you a limonade with a bit more taste
wine / vino

the white wines of Cádiz,
wines of Condado in Huelva
wines of Montilla-Moriles in Córdoba
wines of Málaga and
la tintilla of Rota

tinto de verano / red wine of summer
sangria / typical Spanish punch
Sherry

paxarete (a sherry derivative)

manzanilla of Sanlúcar de Barrameda
liquors included
Why is "beer" called "cerveza" in Spain? Another post coming - one day ....